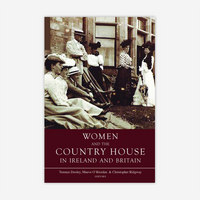 Women and the country house in Ireland and Britain
---
Terence Dooley, Maeve O'Riordan, & Christopher Ridgway
Regular price €30.00
Four Courts Press, 2018
Paperback, 296 pages
This volume of essays examines the lives of women in country houses in Ireland and Britain from the seventeenth century to the twentieth century. The authors present a spectrum of female house owners, residents and caretakers who were far more than bit players in the histories of families and big houses.
The women featuring in these essays were all agents in their own destinies, taking charge of their lives (as much as was possible within a repressive society), as well as influencing the lives of others. They were committed to organizing households, supervising architects and builders, raising families, mobilizing political support, acquiring culinary expertise, assisting husbands or sons, writing fiction, travelling overseas, and, in one instance, undoing a late husband's work.
Drawing from a wide range of archival sources and family papers, this collection goes some way towards answering the question: 'what did they do?', and demonstrates the many roles women played in the appearance and running of family estates.
Terence Dooley is director of the Centre for Historic Irish Houses and Estates, Maynooth University. Maeve O'Riordan is lecturer in Women's and Cultural History at University College Cork.  Christopher Ridgway is curator at Castle Howard in Yorkshire.