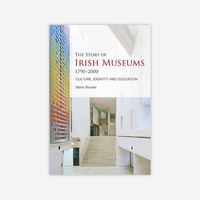 Sale
The Story of Irish Museums, 1790-2000, Culture, Identity & Education
---
Marie Bourke
Sale price €35.00 Regular price €50.00
2011, Cork University Press
594 pages, Hardback
A vivid, engaging and important examination of why museums matter to society, and how much they matter.
This is the first book to provide a comprehensive account of the stories, the histories and the evolution of Irish museums and galleries over the past three centuries. From 1790, when the 'cabinet of curiosities' was an important asset in a gentleman's home, to the new millenium, when museums and galleries are at once physical and vitual spaces, this is a fascinating history of the human desire to collect, catalogue, conserve and create stories around our shared heritage.
Marie Bourke's extensive research and clear passion for her subject have culminated in an erudite but accessible monograph on the history of the museum/gallery in Ireland within an international context, which also makes a strong case for the future viability of these cultural spaces in the age of global technology.