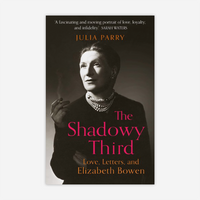 The Shadowy Third: Love, Letters, and Elizabeth Bowen
---
Julia Parry
Regular price €20.70
Duckworth, 2021
Hardback, 374 pages
A sudden death in the family delivers Julia Parry a box of love letters. Dusty with age, they reveal an illicit affair between the celebrated Irish novelist, Elizabeth Bowen, and the academic Humphry House – Julia's grandfather. So begins a life-changing quest to discover and understand this affair, one with profound repercussions for Julia's family, not least her grandmother, Madeline.
Using fascinating unpublished correspondence, Julia follows the lives of three very different characters through some of the most dramatic decades of the twentieth century: from the rarefied air of Oxford in the 1930s and the Anglo-Irish Big House, to the last days of Empire in India and into the Second World War. The story opens up a lost world, one with complex and often surprising attitudes to love and sex, work and home, duty and ambition, and to writing itself, spiced throughout with social history and a celebrated supporting cast that includes Isaiah Berlin and Virginia Woolf.
Inspired by Bowen's own obsession with place and memory, Julia travels to all the locations in the letters – from Kolkata to Cambridge; from Ireland to Texas weaving present-day storytelling with historical narrative and literary exploration.