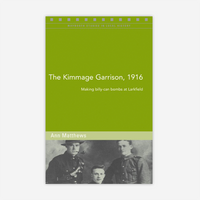 The Kimmage garrison, 1916: Making billy-can bombs at Larkfield
---
Ann Matthews
Regular price $12.00
Four Courts Press, 2010
Paperback, 64 pages 

The Kimmage Garrison in Dublin was comprised of approximately ninety men, the majority of whom were members of the Irish Volunteers in Scotland and England. These men formed part of the vanguard of the 1916 Revolution in Dublin; this work seeks to redress their absence from the canon of 1916 and to establish where they belong within the historical narrative of that week.
The men began arrive in Dublin in late 1915 and were housed at the Larkfield Mill in Kimmage where they worked making ammunition for the forthcoming Rebellion, effectively setting up a manufacturing facility for making bullets, pikes and bombs in billy-cans. Their statements to the Bureau of Military History give a unique perspective on the events of Easter week, as they were involved in the initial attack on the GPO the battle of Sackville Street and the retreat from the GPO. Their memories are central to several issues such as the hoisting of the Republican flag on the GPO, the looting of food by rebels and citizens, the use by the rebel army of the Red Cross insignia and, finally, the effect of the battle on the citizens who were trapped inside their homes in vicinity of the GPO and Moore Street.
Ann Matthews is a historian whose PhD dissertation, completed in 2003, is a study of Irish Republican women from 1900–1941. Part of this work is published as Renegades: Irish Republican women, 1921–1922; she is currently completing the second volume of this work for publication. She teaches a history module at NUI Maynooth exploring how the current iconography of some elite republican women has hampered studies of the wider participation of women within republican politics in the first part of the twentieth century.