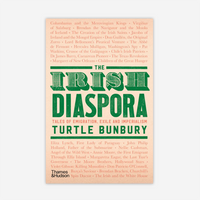 The Irish Diaspora: Tales of Emigration, Exile and Imperialism
---
Turtle Bunbury
Regular price €24.40
Thames & Hudson, 2021
Hardback, 304 pages
The Irish have always been a travelling people. In the centuries after the fall of Rome, Irish missionaries carried the word of Christianity throughout Europe, while soldiers and mariners from across the land ventured overseas in all directions. Since 1800 an estimated 10 million people have left the Irish shores and today more than 80 million people worldwide claim Irish descent.

The advent of the British Empire ignited a slow but extraordinary exodus from Ireland. The pioneering explorers of the Tudor Age were soon overtaken in number by religious refugees, the 'Wild Geese' who opted to live outside of the Protestant state and to take their chances in the Spanish or French empires, or in America. The Irish played a pivotal role in the foundation of the United States of America, just as they would in the Civil War that followed eighty-five years later. The lives of Irish emigrants wove in and out of the major events of global history, including the Abbé Edgeworth, confessor to King Louis XVI at his execution during the French Revolution; Margaretta Eagar, governess to the daughters of Nicholas II, the last Tsar of Russia; and William Lamport, who travelled from County Wexford to Central America, and became Don Guillén, a martyr for Mexican independence.

Turtle Bunbury explores the lives of those men and women, great and otherwise, whose journeys – whether driven by faith, a desire for riches and adventure, or purely for survival – have left their mark on the world.