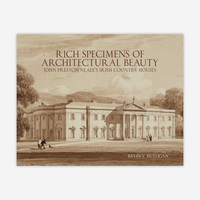 Rich Specimens of Architectural Beauty: John Preston Neale's Irish Country Houses
---
Kevin V. Mulligan
Regular price €40.00
Churchill Press, 2020.
Hardback, 224 pages. 
Special IGS Member price: €25!
To avail of this offer please email shop@igs.ie stating your membership number and we will be in touch.
This new book publishes for the first time the original drawings of Irish country houses by John Preston Neale which were compiled for his Views of the Seats of Noblemen and Gentlemen in England, Wales, Scotland, and Ireland (1824-1829). These previously almost unknown drawings are explored side-by-side with a wealth of new primary documentation from Neale's letter books showing the role that the architect Richard Morrison took in the project. This study by Kevin V. Mulligan gives a wholly original insight into the process by which an architectural canon is created and offers a compelling new account of the Irish country house and the topographical tradition in the Regency period.
'Both scholarly and engaging …the first sustained examination of Neale's Irish topographical views, Rich Specimens of Architectural Beauty represents an important addition to the bibliography of Irish architectural and landscape histories.' (Conor Lucey, Irish Arts Review)