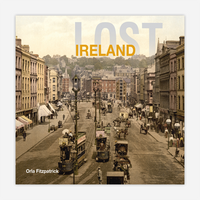 Lost Ireland
---
Orla Fitzpatrick
Regular price €20.50
2021, Pavilion Books
176 pages, Hardback
Pavilion Books' Lost series traditionally looks at the cherished places of a city that time, progress and fashion have swept aside. However, using the new expanded 176-page format of the book, Lost Ireland covers the entirety of the island of Ireland. Losses from all 32 counties are included from County Cork in the south to County Antrim in the north.
Sites include: Queen Victoria Statue, Nelson's Pillar, Ormond Quay 'pissoir', Portlaw Cotton Factory, Titanic shipyard in Belfast, Moorish Baths in Wicklow, Claddagh in Galway, Tipperary Arcade, Irish Hospitals Sweepstake Office, Achill Railway Terminus, Blasket Islands (abandoned), Slievemore, Salt House in Waterford, Belfast spinning mill, Queens Place in Cork, Dunscombe Fountain in Cork, Phoenix Park racecourse, Dunluce Castle (Game of Thrones), Longford Castle, and the magnificent O'Meara's Public House in Dublin.
Orla Fitzpatrick studied History of Design and Material Culture at the National College of Art and Design Dublin (N.C.A.D.) and has a PhD in photographic history from Belfast School of Art, Ulster University. She was born and lives in Dublin and has worked as a librarian in various cultural institutions including the National Library of Ireland's photographic archive. She teaches history of photography and visual culture at N.C.A.D. and is the librarian for the National Museum of Ireland.