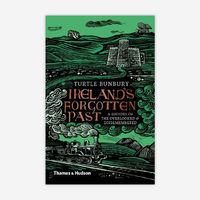 Ireland's Forgotten Past
---
Turtle Bunbury
Regular price €12.50
Published by: Thames & Hudson 2021
Paperback, 224 pages. 

Every field, wood, stream and rock seems to hold another secret about Ireland's past: hilltop summits crowned with ancient forts, rocky cairns and the ghostly outlines of primeval forests; riversides studded with ruined castles, hollow mills and crumbling farmsteads; the bramble-strewn shells of abandoned canals and copper mines; the stumps of pillars that once carried railway lines; the overgrown graveyards where the forgotten bloodlines lie.
In his inimitable style, Turtle Bunbury explores the people and events from high to low that played major roles in Ireland's fascinating past but have since been lost to the mists of time. Taken as a whole, these stories underline why Ireland is such an exceptional place for anyone interested in the past. There is an awful lot of amazing history out there – the juiciest plots, the greatest twists, the richest characters – and yet so much of it remains, even now, forgotten. Turtle Bunbury paints a surprising, witty and engaging new portrait of 
an Ireland you thought you knew.