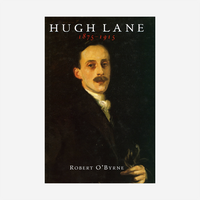 Hugh Lane
---
Robert O'Byrne
Regular price €25.00
Available for the first time in paperback, Robert O'Byrne's landmark biography of Hugh Lane remains the essential work on this enigmatic art dealer and patron.
From his birth in Cork in 1875, to London, South Africa and Dublin, Hugh Lane is primarily remembered for establishing Dublin's Municipal Gallery of Modern Art, the first known public gallery of modern art in the world. He never married and, though rumoured to have been homosexual, never had a documented relationship with a man. He was also a person of great social energy who befriended and sometimes crossed swords with the leading cultural figures of his day: Yeats, Gregory, Orpen, Augustus John, Rodin, Beerbohm, and many others.
Robert O'Byrne writes with clarity and insight about a man who, since his untimely death on R.M.S. Lusitania in 1915, has been something of a mystery. -Lilliput Press
The Lilliput Press
ISBN: 9781843517511
Paperback. 282 pages.