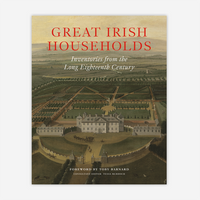 Great Irish Households
---
John Adamson
Regular price €87.00
Hardback, 436 pages. 

John Adamson, 2022. 
Inventories of fourteen great Irish country houses, three Dublin town houses and one London town house yield remarkable insights into the lifestyle of leading families across Ireland and the households that supported them. With startling directness, they record in detail the goods and chattels inherited, accumulated, or acquired for enjoyment or everyday use. Two sections in colour feature likenesses of many of the owners or householders of the properties at the time, including portraits by Pompeo Batoni, Michael Dahl, Thomas Gainsborough, Godfrey Kneller, Thomas Lawrence, Joshua Reynolds, as well as the Irish artists Hugh Douglas Hamilton and Charles Robertson.
John Adamson, Fellow of the Society of Antiquaries of London, is a publisher of books in the fine and decorative arts and the history of material and visual culture and is also a translator of art and architecture books. His translation for éditions Faton of a book edited by Jean-Sébastien Cluzel was published on 19 August 2022 under the title Japonisme and Architecture in France, 1550–1930. This newest publication is in tribute to Desmond FitzGerald, the Knight of Glin (1937–2011).