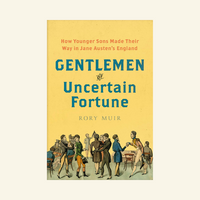 Gentlemen of Uncertain Fortune
---
Rory Muir
Regular price €15.20
2023, Yale University Press
Paperback, 400 pages
A portrait of Jane Austen's England told through the career paths of younger sons—men of good family but small fortune
 
In Regency England the eldest son usually inherited almost everything while his younger brothers, left with little inheritance, had to make a crucial decision: What should they do to make an independent living? Rory Muir weaves together the stories of many obscure and well-known young men, shedding light on an overlooked aspect of Regency society. This is the first scholarly yet accessible exploration of the lifestyle and prospects of these younger sons.
Rory Muir is a visiting research fellow at the University of Adelaide and a renowned expert on British history. His books include Britain and the Defeat of Napoleon and his two-part biography of Wellington, which won the SAHR Templer Medal.