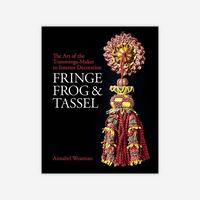 Fringe, Frog and Tassel: The Art of the Trimmings-Maker
---
Annabel Westman
Regular price €60.00
Trimmings are often overlooked as mere details of a furnished interior but in the past they were seen as vital and costly elements in the decoration of a room. They were used not only on curtains and beds but also on wall hangings, upholstered seat furniture and cushions, providing a visual feast for the eye with their colour and intricate detail.Sometimes more expensive than the rich fabrics they enhanced, trimmings are often the only surviving evidence of a lost decorative scheme, reapplied to replacement textiles or found as fragments in the attic.

This book, the first of its kind, traces their history in Britain and Ireland from 1320 to 1970, examining the design and usage of tassels, fringe, braid (woven lace), gimp and cord and their dependence on French fashion. Lavishly illustrated with new photography, the substantial text links surviving items in historic houses and museums to written evidence, paintings, drawings and other primary sources to provide a firm framework for dating pieces of less-certain provenance. The importance of the 'laceman', the maker of these trimmings, is also examined within an economic and social context, together with the relationship to the upholsterer and interior decorator in the creation of a fashionable room.
Annabel Westman is an independent textile historian and consultant and is the Executive Director of The Attingham Trust. She was appointed a Fellow of the Society of Antiquaries in 1997.