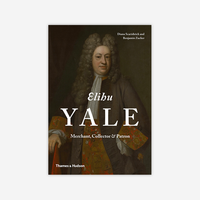 Elihu Yale: Merchant, Collector & Patron
---
Diana Scarisbrick and Benjamin Zucker
Regular price $37.00
2014, Thames & Hudson,                                                                                                   288 pages
Elihu Yale (1649–1721) is famous for the name of Yale University, of which he was an early benefactor. He made his fortune in India, trading in diamonds. Arriving there in 1672, he rose through the East India Company from clerk to governor. When he returned to London in 1699 he brought with him gems, furniture and textiles. In the milieu of portrait painter Sir Godfrey Kneller and physician Sir Hans Sloane he established a fashionable household where he had assembled some ten thousand items.
Yale's career, which spans Puritan New England, Mughal India, and the London of the English Enlightenment, throws light on the religious, political, social, commercial, scientific, and cultural circumstances of the world of the later Stuarts and early Hanoverians.
His collection was dispersed after his death and the catalogues of the sales survive, providing information about the 18th-century London art market. The Yale sales prove to be a landmark in the history both of collecting and of auctioneering. Analyses of the categories throw light on Yale's personality and interests: he is revealed as a Fellow of the Royal Society, churchman and a philanthropist, totally in tune with the English Enlightenment.
The authors explore Yale's life in Madras and London and his interests, including musical and scientific instruments and books, and then turn to Yale as a dealer and a collector of diamonds and jewelry and works of art. The story is one with many appeals: the East India Company and early 18th-century London; furniture, both Indian and English; the fashion for things Oriental in the West; gemstones and jewelry; and collecting works of art.
Diana Scarisbrick is a historian specializing in jewelry and engraved gems. She has curated exhibitions in the UK and abroad and has written many books, including Rings: Jewelry of Power, Love and Loyalty and Portrait Jewels: Opulence and Intimacy from the Medici to the Romanovs. She is a Research Associate at the Beazley Archive, Oxford, and recently collaborated with Professor Sir John Boardman on The Marlborough Gems.
Benjamin Zucker, a graduate of Yale University and Harvard Law School, is one of the world's leading gem dealers, based in New York. He has written extensively on gemstones, coloured stones and the history of ring collecting.