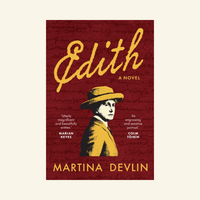 Edith: A Novel
---
Martina Devlin
Regular price $18.00
2023, Lilliput Press
Paperback, 288 pages
Martina Devlin, an award-winning columnist for the Irish Independent and podcaster for Dublin City of Literature #CityofBooks, has delivered a new novel based on the life of Edith Somerville of 'Somerville and Ross' fame – authors of The Irish R.M.
In this work, set during the turbulent period of Irish Independence 1921–22, Somerville finds herself at a crossroads. Her position as a member of the Ascendancy is perilous as she struggles to keep her family home, Drishane House in West Cork, while others are burned out. After years in a successful writing partnership with Violet Martin, Edith continues to write after her partner's death, comforted in the belief they continue to connect through automatic writing and séances.
Against a backdrop of Civil War politics and lawlessness erupting across the country via IRA flying columns, people across Ireland are forced to consider where their loyalties lie.
In Edith, Devlin limns a vivid historical context in this story of proto-feminist Edith Somerville courageously trying to keep home and heart in one piece.