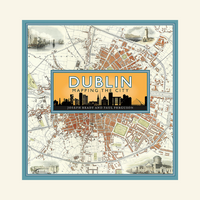 Dublin: Mapping the City
---
Joseph Brady and Paul Ferguson
Regular price $42.00
Birlinn, 2023
Hardback, 252 pages
Maps are essential tools in finding our way around, but they also tell stories and are great depositories of information. Until the twentieth century and the arrival of aerial images, a map was the best way of getting a sense of what a city looked like on the ground.
Through a carefully chosen selection of maps, the book traces the growth and development of Dublin from the early seventeenth century to the present day, offering a fascinating snap-shot of how the city has changed over time.
Whilst the maps recount the big stories – the impact of major forces such as the restoration of the monarchy in 1660 or the effects of the Easter Rising in 1916 and the Civil War in 1922 – they also tell the smaller tales such as the creation of a colony of Irish speakers in the late 1920s and the arrival of parking meters and how they changed how people could use the city centre. Together with maps that reveal much about the famous buildings, transport, health, trade, life and work of the city, this book is a fascinating portrait of Dublin through the ages which offers many new perspectives on one of Europe's great cities.
Joseph Brady taught in the school of Geography at University College Dublin. He has been writing about the development of Dublin for many years and is one of the leading experts in the field. 
Paul Ferguson is Map Librarian at Trinity College Library, Dublin.