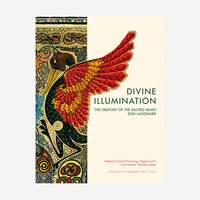 Divine Illumination: The Oratory of the Sacred Heart, Dún Laoghaire
---
David Gunning, Nigel Curtin and Marian Therese Keyes
Regular price €20.00
New Island Books, 2019.
Softback, 200 pp.
The Oratory of the Sacred Heart was built by the Dominican nuns of St Mary's Convent, Kingstown (Dún Laoghaire), to celebrate peace at the end of the First World War. The building commemorates the many local Irishmen who fought and died in the Great War.
The oratory was dedicated to the Sacred Heart in 1919, and was handpainted by Sr Concepta Lynch, a Dominican nun at St Mary's, from 1920 until 1936, emulating the dedication and work of the medieval Irish monks who produced the Book of Kells. Her interpretation of their designs makes the Oratory of the Sacred Heart a dazzling example of the Celtic Revival style. Stained glass windows in the building were created by Harry Clarke Studios in Dublin.
Divine Illumination explores various aspects of the lives and ministries of women religious orders in Ireland during the nineteenth and twentieth centuries. Using archival records and original research, these essays provide a comprehensive account of Sr Concepta's artistic achievement and reveal new details of her life alongside previously unseen reproductions of her work.