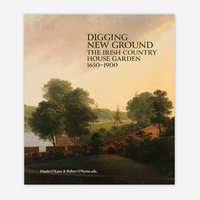 Digging New Ground - The Irish Country House Garden 1650–1900
---
Finola O' Kane and Robert O' Byrne
Regular price $45.00
Irish Georgian Society, 2022
Hardback, 224 pages
What gives the Irish country house garden its distinctive character? A verdant light, lush grass, bold trees and green-fingered generations of care. The Irish country house garden sits at a precise point where nature, culture and history meet, and continues to be a place where the Irish, British and European horticultural traditions potently collide.
Breaking new ground through the presentation of fresh material and research, this book investigates the history, design and planting of the Irish country house garden from c.1650-1900. It considers garden making as an art form in all its dimensions, not least the relationship to contiguous buildings and natural features, as well as the colour, massing and individual habits of planting over three and a half centuries. Changes in fashion, habits of collecting, patronage, gender and networks are also investigated. Although the larger scale of landscape is considered, a primary aim is to address the smaller nature of gardens, and their many specific, often complex, design concerns.
Edited by: Finola O'Kane MRIA is a landscape historian, architect, conservation specialist and a professor at UCD. Her books include Ireland and the Picturesque: Design, Landscape Painting, and Tourism, 1700–1840 (Yale, 2013), William Ashford's Mount Merrion; The Absent Point of View (Churchill, 2012) and Landscape Design in Eighteenth-Century Ireland: Mixing Foreign Trees with the Natives (Cork, 2004) and she is a former editor of Irish Architectural and Decorative Studies.
Robert O'Byrne is a writer and lecturer specialising in Irish historic houses and gardens and the author of more than a dozen books. A former Vice-President of the Irish Georgian Society, he is currently a trustee of the Apollo Foundation and the Artists' Collecting Society. He writes a monthly column for Apollo magazine and has also contributed to The Burlington Magazine and the Irish Arts Review. Since 2012 he has written an award-winning blog, www.theirishaesthete.com