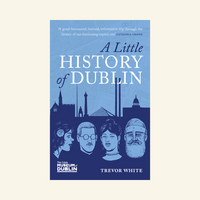 A Little History of Dublin
---
Trevor White
Regular price €16.99
Irish Academic Press, 2023
Paperback, 218 pages
Irish village. Viking town. English city. Proud European capital.
A Little History of Dublin is a high-speed journey through a thousand years of life in the Irish capital. The key events are explained in short chapters, and the reader will discover the complete history of Dublin in the time it takes to walk from Dollymount to Dalkey.
Comedy and calamity feature throughout this 'history in a hurry'. Trevor White writes with affection for his birthplace, but also with a clarity that reflects his experience of creating an award-winning museum about the history, humour and hospitality of Dublin.
The result is a crisp, colourful account of mischief and triumph in one of the great small cities of the world.