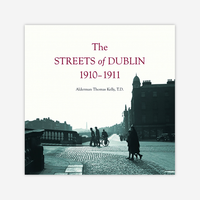 The Streets of Dublin: 1910-1911
---
Alderman Thomas Kelly
Regular price $20.00
2013, Dublin Civic Trust,                                                                                                     216 pages
Edited by Sheila Carden
The latest addition to Dublin Civic Trust's series of publications, this handsome new book comprises 45 essays written by former Lord Mayor of Dublin, Alderman Thomas Kelly, as first published between October 1910 and December 1911 in Sinn Fein, the Irish nationalist newspaper. They offer a fascinating insight into the Dublin of the nineteenth century, describing the streets, trades and indeed the hardship suffered by the population in the decades after the Act of Union in 1801 and the departure of the political class.
The book reproduces the series of articles in their own idiom and style, cataloguing the decline of the traditional trades and industries of the city as observed by Kelly. He recounts the history of many streets, giving us insights into the social and colourful life of many of their inhabitants. He has a clear view of the political realities of the time and outlines the effect the importation of cheap goods from England had on Irish ways of life. Kelly consistently expresses his concern for his fellow citizens, the effect the destruction of the traditional industries has had on their lives, and the consequent loss of their dignity. His narrative also contains judgment on many political figures of the nineteenth century and laments the decline of the fine buildings and streetscapes which had made Dublin a city of architectural significance and which, in his opinion writing in 1910, it no longer was.
Elegantly illustrated with original hand drawings by David Rowe, this is a must-have book for anyone with an interest in the social and landscape history of Dublin.