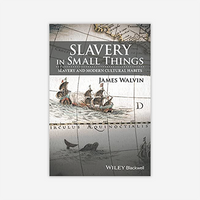 Slavery in Small Things: Slavery and Modern Cultural Habits
---
James Walvin
Regular price $32.00
Wiley-Blackwell (2017)
Paperback, 288 pages
Slavery in Small Things: Slavery and Modern Cultural Habits is the first book to explore the long-range cultural legacy of slavery through commonplace daily objects.

Offers a new and original approach to the history of slavery by an acknowledged expert on the topic
Traces the relationship between slavery and modern cultural habits through an analysis of commonplace objects that include sugar, tobacco, tea, maps, portraiture, print, and more
Represents the only study that utilizes common objects to illustrate the cultural impact and legacy of the Atlantic slave trade
Makes the topic of slavery accessible to a wider public audience
James Walvin is a Fellow of the Royal Society of Literature, Professor Emeritus at the University of York, and formerly a Visiting Fellow at Yale University. His books include Black Ivory: Slavery in the British Empire, 2E (2001); The Trader, The Owner, The Slave: Parallel Lives in the Age of Slavery (2007); A Short History of Slavery (2007); Britain's Slave Empire (2008); The Zong: A Massacre, the Law and the End of Slavery (2011); The Slave Trade (2011); and Crossings: Africa, the Americas and the Atlantic Slave Trade (2013).