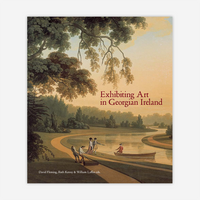 Exhibiting Art in Georgian Ireland: The Society of Artists's Exhibitions Recreated
---
Irish Georgian Society
Regular price $28.00
Irish Georgian Society, 2018
Hardback, 248 pages

The catalogue of the 2018 exhibition Exhibiting Art in Georgian Ireland: The Society of Artists's Exhibitions Recreated.
Edited by Dr David Fleming, Dr Ruth Kenny and William Laffan, with contributions from Victoria Browne, Dr Paul Caffrey, Donough Cahill, Logan Morse and Dr Brendan Rooney. A serious study of the subject with scholarship and whimsy side by side and lavishly illustrated.
Georgian Dublin was a hive of creativity, with landscape artists working alongside portraitists, history painters, sculptors, printers and draughtsmen in an astonishing range of media, including oil paint, pastel, marble, wood, glass, wax and hair.
The catalogue evaluates these stimulating years; assessing Ireland's first introduction to exhibition culture and the significant contribution it made to an increasingly self-confident national school of Irish art.