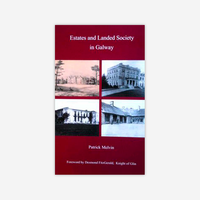 Estates and Landed Society in Galway
---
Patrick Melvin
Regular price $84.00
2012, De Búrca,                                                                                                                  512 pages
With a foreword by Desmond Fitzgerald, Knight of Glin. Illustrated. Full buckram gilt.
This work is based on a Trinity College Dublin Ph.D. thesis prepared under the direction of Professor L.M. Cullen. It investigates and describes the varied origins and foundation of estates and proprietors in Galway and how that process was affected by the political turmoils and transplantations of the 17th century. The aftermath of these turmoils in England and Ireland saw the establishment of a core number of successful estates founded largely by ambitious families able to trim their sails to changing times and opportunities. Alongside these estates there remained at the same time a fluctuating mass of smaller proprietors whose lands frequently fell to more able or business-like landowners. Penal laws and poor land quality resulted in exile – sometimes temporary – for many of the older Catholic landowners.
The book describes how, by the 19th century, the variously rooted strands of proprietors became bound together by the common interest of property, security and class and survived with their social if not political influence largely intact through the 19th century. The role of this large and diverse gentry class in local administration, politics, social life and as landlords is described in some detail. The size of the county and complexity of changing estate history prevents the book from being exhaustive or a complete history of all estates and gentry families. These Anglo-Irish families (the term is unsatisfactory) became largely sidelined, irrelevant and forgotten by the modern nationalist Irish state. Their numbers and variety in Galway is made clear through a large range of house illustrations.
Many of the old landed class and nobility embodied values worthwhile in society. The wealthiest were patrons of much of the culture and art of old Europe. They stood for continuity, tradition, a sense of public duty, standards and refinement in manners. Many of them fostered the pursuit of outdoor sports and horseracing. They linked their frequently remote places to the wider world and they were at the same time cosmopolitan and local without being parochial. Although a declining social force they frequently held liberal attitudes against the power and dominance of state, church, and the ever expanding bureaucracy in modem society and government. Some, of course, did not always live up to ideals. – Knight of Glin.
The contents include: Foreword; Preface; Introduction; Origins and Establishments of Estates; Estates and Estate Management; The Social Life of the Gentry; Marriage, Family and Careers; The Gentry as Landlords; The County and Local Roll of the Gentry; The Gentry and Politics; Ideas of Class and Historical Identity; Review and Retrospect.