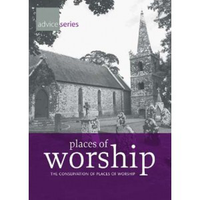 The Conservation of Places of Worship
---
Architectural Heritage Advisory Unit of the Department of the Environment, Heritage and Local Government
Regular price $12.00
2011, Department of the Environment, Heritage and Local Government
Paperback, 80 pages
The Advice Series is a series of illustrated booklets published by the Architectural Heritage Advisory Unit of the Department of Environment, Heritage and Local Government. The booklets are designed to guide those responsible for historic buildings on how best to repair and maintain their properties.
Traditionally built buildings perform differently from modern
construction in the way they deal with damp and atmospheric
moisture, and misguided works aimed at improving their thermal
efficiency can have damaging consequences. This guide will help
you to make the right decisions on how to increase the comfort and reduce the energy use of your historic building.