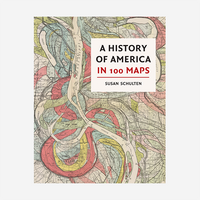 A History of America in 100 Maps
---
Susan Schulten
Regular price €35.00
British Library Publishing, 2018.
Hardback, 272 pages.
One hundred maps from the British Library's collection tell the story of American history in this stunningly illustrated new book. Each map is a document of importance in its own right, and illustrated at generous size in full colour; but the maps are also a point of departure to discuss larger ideas and problems. Susan Schulten, renowned historian of American cartography, uses maps that vary in scale, geography, approach, style, and theme to chart the development of North American society from the colonial period to the early 21st century.
Some of the maps included here were highly influential, such as John Fremont's maps of the Oregon Trail; others are less familiar but equally powerful, as for example a map of vice in San Francisco's Chinatown in the Gilded Age. All the examples are visually compelling and together they present a fascinating, sometimes provocative account of American history from the first chart of the terrain produced by the settlers at Jamestown, Virginia to the present day. Major themes include exploration, reconnaissance, boundaries; conflict, war, conquest; expansion, migration, settlement; power, population, and progress; nature, leisure, transport and tourism.
Susan Schulten is professor and chair of the history department at the University of Denver. She is the author of Mapping the Nation: History and Cartography in Nineteenth-Century America (2012) and The Geographical Imagination in America 1880-1950, both published by University of Chicago Press.