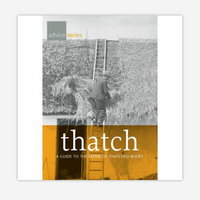 Thatch: a guide to the repair of thatched roofs
---
Architectural Heritage Advisory Unit of the Department of the Environment, Heritage and Local Government
Regular price $12.00
2015, Department of the Environment, Heritage and Local Government,
Paperback, 68 pages
Advice Series: Thatch 
The Advice Series is a series of illustrated booklets published by the
Architectural Heritage Advisory Unit of the Department of the
Environment, Heritage and Local Government. The booklets are
designed to guide those responsible for historic buildings on how
best to repair and maintain their properties.
 It is intended that this guide will help owners to look at their thatched roof in a new light with greater understanding of the extraordinary heritage, skill and craftsmanship of many generations which it embodies.