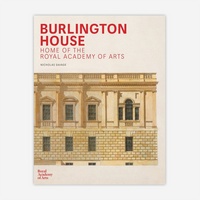 Sale
Burlington House
---
Nicholas Savage
Sale price $64.00 Regular price $92.00
Royal Academy, 2018
Hardback, 368 pages. 
On Charles II's restoration to the throne in 1660, four of his supporters were provided with plots of land in a leafy suburb of London, on which to build their extravagant town palaces. The only one to survive – built for the poet and courtier Sir John Denham (1615–1669) and now situated in the heart of Piccadilly – became the home of the Royal Academy of Arts, its exhibitions and its Schools.
This significant study charts the history of the estate through its many owners, including the 3rd Earl of Burlington (1694–1753), who gave the house not only its name but also its influential character and distinctive architecture, which remains an unparalleled example of the Palladian style in England.
The architectural historian Nicholas Savage is former Head of Collections at the Royal Academy of Arts and co-author of Genius and Ambition: The Royal Academy of Arts, London, 1768–1918 (RA Publications, 2015).