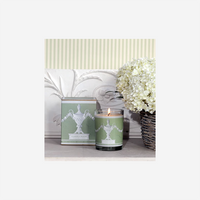 Irish Country House Collection Scented Candle – Garden Room
---
Merrion Square Interiors
Regular price €12.50
Eighteenth-century Irish country house owners had a passion for gardening. Formal avenues, fountains, box hedges, follies, hot houses and summer houses were very much in vogue. Such innovations came principally from those who had completed the 'Grand Tour' and subsequently recreated what they had seen abroad. Fresh flowers from the garden were placed in an old lead sink in the garden room, prior to being arranged for display by the lady of the house.
This citrus-scented candle evokes zestiness, an explosion of fresh fruit, with an undertone of fern, geranium and moss.
The Georgian Collection of scented candles, by Merrion Square Interiors, has been has been designed and developed by Ireland's leading Interior Designers Joseph Ensko and Helen Roden.